Soulmate Sunday
February 11, 2018 @ 10:30am
Location: FWC Florence
Do you want to know the secrets to lasting love? Do you have questions about relationships or dating? We've designed a special service that aims to answer these questions and more! Join us for Soulmate Sunday on February 11th at 10:30am. This is a special, ticketed event focused on building lasting relationship with gift bags, giveaways, videos, and a special Q&A session with Pastor Steve & Mrs. Amy!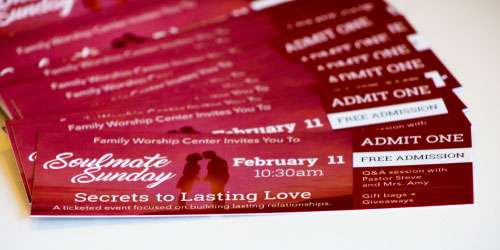 How do I get a ticket?
Tickets can be picked up at any FWC church service and you can also use one of our postcards as a ticket. Furthermore, tickets will be available at the door on February 11th. Admission is free and no one will be turned away (even if they come without a ticket)!