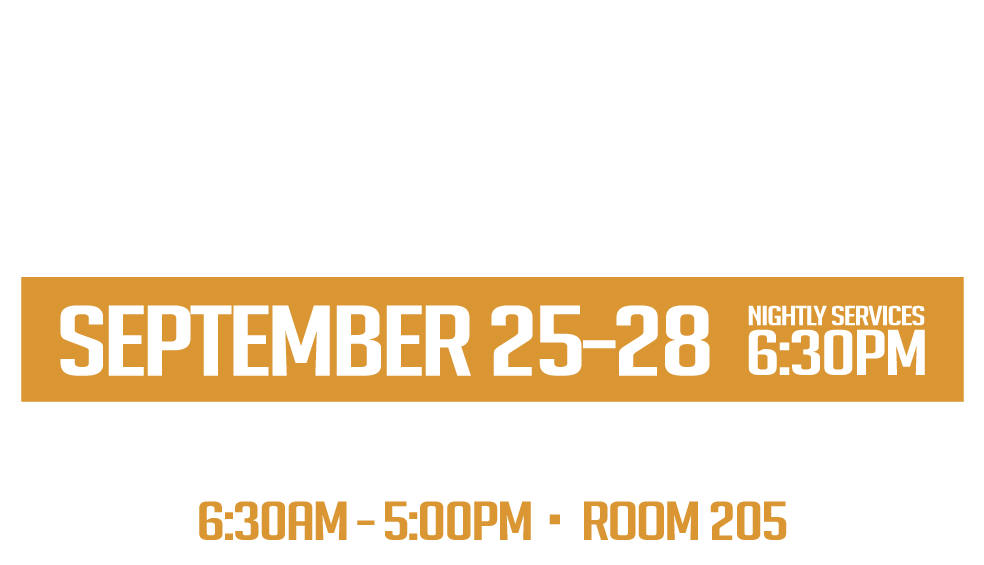 Week of Prayer
September 25-28, 2016
Nightly Services @ 6:30pm
Location: FWC Florence
At Family Worship Center, we know that prayer works! We believe in prayer so much, we want our whole church to dedicate a week in September to prayer.  Join us Sunday, September 25th to Wednesday, September 28th for nightly prayer services at 6:30pm with Pastor Steve McCartt! Also, our Prayer Room (Room 205) will be open Monday, September 26th to Thursday, September 29th from 6:30am – 5:00pm for anyone to come pray.
Special Notes
Nightly services will be held at 6:30pm for teaching & corporate prayer.
Nightly services will be in the Main Sanctuary.
Nightly services on Sept. 25-27 will not have child care.
The night service on Sept. 28 will have nurseries available for 6 weeks up to 5k as well as our children's ministry for grades 1-6.
We'll have an amazing atmosphere in Room 205 that will be available for dedicated prayer September 26-29 from 6:30am – 5:00pm.
Our weekly prayer meetings will resume as normal.
Prayer requests and testimony cards are always available.
Weekly Prayer Meetings
Every week, we have the following prayer meetings available for you to attend. During the Week of Prayer, we encourage you to attend one of these prayer meetings and make it a part of your weekly routine!
| Day | Time | Location |
| --- | --- | --- |
| Mondays | 6:30am & 9:00am | Room 205 |
| Tuesdays | 9:00am | Room 205 |
| Wednesdays (Pastor Steve's Morning Prayer) | 10:30am | FWC Youth Center |
| Thursdays | 6:30am | Room 205 |
| Fridays | 6:30am | Room 205 |
| Saturdays | 10:30am | Room 205 |
| Sundays | 6:30pm | Main Sanctuary |